This is my favourite, no fuss, vegetarian lunch when I have homegrown basil. If I don't have spinach I up the parsley to get some green goodness in there.
Ingredients
spinach leaves
a small handful of fresh basil leaves
a smaller quantity of parsley (optional)
one to two cloves of garlic depending on size
freshly ground salt and pepper
a small handful of roasted, salted cashews*
raw pasta for one
Method
While pasta is cooking:
1. Rip herbs into smaller pieces and add to mortar. Grind.
2. Add peeled garlic and grind.
3. Add nuts and grind.
4. You should end up with a bright green, thick paste like this. Season with salt and pepper.
5. Add a handful of grated parmesan and a good slurp of olive oil. Stir with flexible spatula into a thick paste.
6. Put ripped or chopped up fresh spinach leaves into a colander. Drain your freshly cooked pasta through colander to cook spinach.
7.Tip contents of colander into large bowl, and stir through pesto. Serve immediately.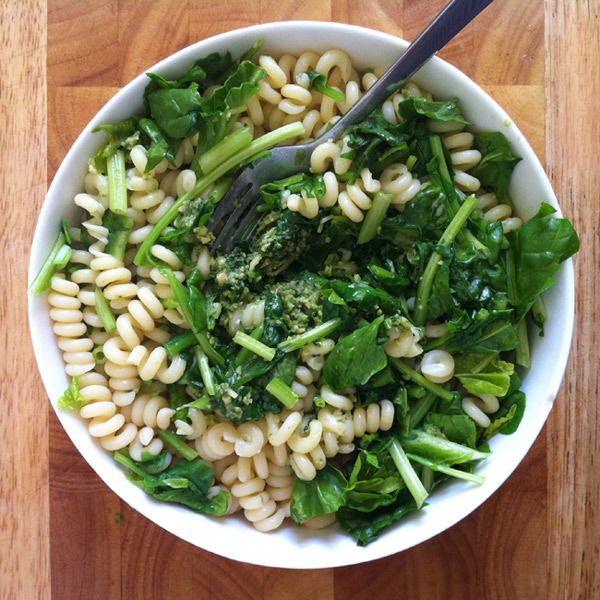 * or pinenuts or any roasted nut you like. Unroasted peanuts and macademias should work well